The conference venue is Taskisla building and Cemal Resit Rey Concert Hall. Taskisla Building is the home of conference hosts ITU's Faculty of Architecture and Urban and Environmental Planning and Research Center.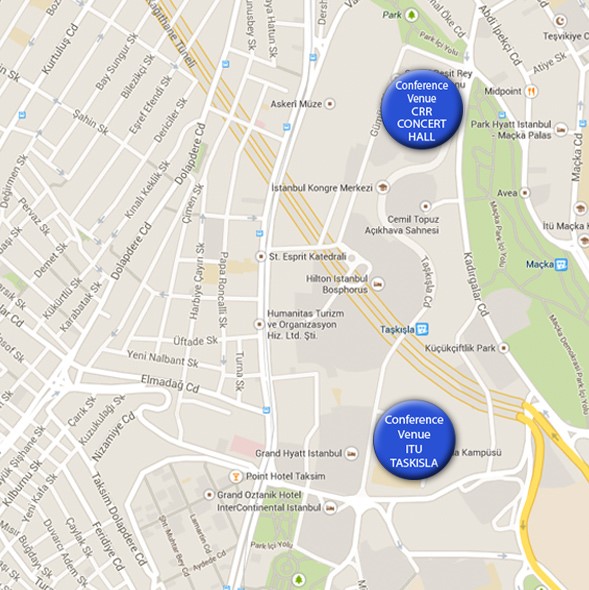 | | |
| --- | --- |
| Cemal Resit Rey Concert Hall | Cemal Resit Rey Concert Hall |
Cemal Resit Rey Concert Hall is located in the Harbiye neighbourhood of Istanbul, Turkey. It is one of the country's major congress halls, being the first one designed for classical music. It is named after the great Turkish composer Cemal Resit Rey, the hall is owned by the Metropolitan Municipality of Istanbul, and was opened in 1989.

| | |
| --- | --- |
| Taskisla Building | Taskisla Building |
Taskisla building was constructed all in structural masonry between 1848 and 1853 as a military medicine academy for the Ottoman Army. The building plans drawn by W. James Smith were modified and the building's function was changed to the military barracks in 1849. This modification was part of a construction plan that were to ensure the safety of the imperial domain around the Dolmabahce Palace.
The building sustained some damage in the earthquake of 1894, and was restored by architect Raimondo D'Aronco. In 1944, the building was handed over to the ITU and restored by architects Paul Bonatz and Emin Onat. Teaching was started in 1950, with the Civil Engineering and Architecture Faculties. In 1983, it was classified as a first degree historical monument. 
| | |
| --- | --- |
| Court of Taskisla Building | Court of Taskisla Building |
| Urban and Environmental Planning and Research Center | |
| Conference Hall No.109 | Library |